Originally published in the Group' s 2014 Annual Report.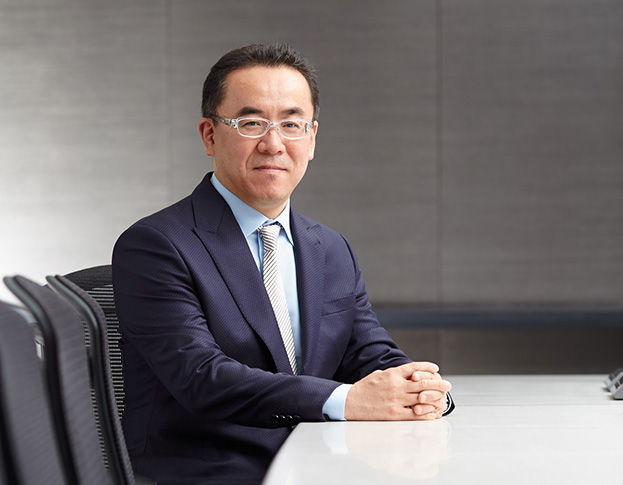 Let me extend my sincere gratitude for your continued understanding and support for the management of the Square Enix Group. It's been one year since I was appointed to the position of President and Representative Director last June. In addition to reporting on the recent progress, I would like to take this opportunity to report to our shareholders on the Group's progress of our businesses during the period, and outline our future strategic directions.
On a consolidated basis, net sales during the fiscal year ended March 2014 totaled ¥155 billion, while operating income was ¥10.5 billion and net income amounted to ¥6.5 billion. In response to our inferior financial results in the fiscal year ended March 2013, the Group made concentrated efforts together for financial recovery to achieve these figures as a result. This achievement is entirely owing to our support. Again, I would like to express my thanks for your help. The Digital Entertainment segment, our Group's core business, is currently undergoing a business reform, which I will discuss in detail later on. For the fiscal year ended March 2014, we actively reformed our development policy and organization system, focusing on our European and North American studios, and simultaneously worked on earnings recovery through our existing lineup. Sales of console game titles, including "FINAL FANTASY X/X-2 HD Remaster," "Thief" (Europe and North America only) and "TOMB RAIDER: DEFINITIVE EDITION," were better than our original plan. In the category of content for smart devices and PC browser platforms, "SENGOKU IXA," a browser game, continued to contribute to earnings. Meanwhile, the smartphone game "Kaku-San-Sei Million Arthur" was expanding across platforms and regions: the game became an instant hit in Korea, Taiwan and mainland China, and a PlayStation Vita edition of the game was released. "DRAGON QUEST MONSTERS SUPER LIGHT," which was launched domestically in January 2014, also made an encouraging start. Three major MMO titles—"FINAL FANTASY XIV: A REALM REBORN," which began operation last August, "DRAGON QUEST X," which was launched in August 2012, and "FINAL FANTASY XI," which has entered its thirteenth year of operation—maintain nearly 1,000,000 paying subscribers all together, and have established a solid revenue base. In the Amusement segment, as a result of streamlining arcade store operations, our amusement facility business was showing steady performance compared to existing store sales in the previous period. In addition, with regard to the development and sales of amusement equipment, we released brand-new machines such as "LORD of VERMILION III," "GROOVE COASTER" (arcade version), "GUNSLINGER STRATOS 2" and others, which obtained favorable results. In this manner, the Amusement segment has begun to generate stable revenues, and we shall maintain that ongoing momentum. The Publication segment's results for the fiscal year ended March 2014 were slightly down from the previous period, due in part to several popular manga titles having ended their runs. The fiscal year ending March 2015 will be a time for us to stock up on titles in preparation for our next leap, and we should begin to see results from that stock in the latter half of the fiscal year ending March 2015. The Merchandising segment is steadily generating sales and profit. While its sales are relatively small, this segment is considered important from the perspective of enhancing our IP offerings, which include original pieces. We therefore shall maintain this steady profit-generation. Next, I would like to cover the strategic issues of the Digital Entertainment segment, our Group's core business. Since I was appointed to the position of President last year, I have been running the Group with emphasis on three major strategic issues: 1) revisiting long-term, large-scale development, 2) focusing on smart devices as game consoles, and 3) developing product portfolios tailored to local requirements. I will explain each item.