From operating income of ¥7.3 billion to a net loss of ¥12.0 billion, excluding a foreign exchange loss of ¥2.1 billion, there is a difference of ¥17.2 billion.
51% of this amount, or ¥8.8 billion, was the result of a goodwill write-down. The amounts of goodwill previously recorded for EIDOS and TAITO were based on assumptions of industry conditions at the time of their respective acquisitions. While the underlying value of each business continues to be high, we decided it necessary to more conservatively value future earnings generation from planned business models given the dramatic industry transformation.
Further, certain development cancellations and related losses amounted to ¥4.4 billion, or 26% of the aforementioned difference. These losses were recorded as we decided to refocus our attention on fewer, stronger titles.
While the balance of the content production account increased from ¥16.0 billion to ¥19.9 billion, the composition is changing dramatically as we pursue global development. At present, already more than 40% is recorded at development studios outside Japan (Figure1).
Including taxes of ¥2.0 billion yields a total of about 90% of the difference explained above.
While I regret concerns that may have been caused by our swing to a loss during the fiscal year ended March 31, 2011, the real nature of the loss is as described above. Finally, the vast majority of the decline in total assets was due to goodwill and the planned payback of capital for corporate bond redemptions, while extraordinary loss items were related to valuations and did not materially impact capital flows. As a result, our cash balances have not fallen (Figure 2).
Financial treatment is important, however, in the end this is accounting for the past. It goes without saying that our business and how we energize our vital human resources are more important. In addition to reorganization and a review of the chain of command, we also improved our internal communication methods from those based on a hierarchical organization to a system in which management can communicate directly with all employees as a tool for conveying Group vision as well as business directives. Moreover, in order to promote the active and honest exchange of views among employees, we have begun holding workshops on various topics and information exchange events. I believe that the transformation of our Group's culture is our most critical issue and the fastest road to success.
New Signs
While fundamentally changing Group culture is not an easy task, we have already started to see some teams leading the way with good results. At the E3 game show held in June 2011, the quality of our various titles earned extremely high praise (Figure 3). With enhancing brand value a top priority for the Group, these are certainly very encouraging examples.
In addition, we are starting to see the fruits of our labor in the creation of new genres. Our browser game launched in August 2010 called "SENGOKU IXA" has already grown to become a significant earnings generator. In addition, several of our social game releases have also achieved success in the market. Using the feedback we are receiving in these new genres, we are further strengthening our development capabilities.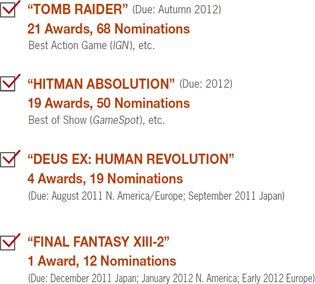 Historical Development of the Game Industry
For a deeper understanding of our basic strategy, I would now like to describe our outlook for the gaming industry while reviewing historical developments to date. Our Group created, and is now implementing, a strategy based on a clear understanding of the game industry's history.
---