Globalization
Entertainment in so many forms is destined to spread around the world.
While digital entertainment has been the most recent to enter the market, computer games and network communications have already pervaded virtually every part of the world. Based on this, the whole world has become game companies' target market. The only choice available toindividual companies in the industry is where to set up content development and marketing operations to best serve global markets.
For us, we have chosen the path of complete globalization.
Our substantial first step in this process was the acquisition of U.K.-based Eidos. A year on since the acquisition, progress has been extremely smooth as we not only completed the organizational integration but also have begun to collaborate on certain development projects.
As a result, we've been able to strengthen our development and marketing structures in North America and Europe. And while we are still developing in this area, our composition of human resources is now more balanced across regions, forming a solid foundation for global business development (Figures 5 - 6).
When I say that we've built a foundation, I don't mean that we will then simply expand these operations by functional extensions based on the status quo.
In fact, each location has differences in personnel skills and performance as well as costs and trading conditions. This worldwide location framework will provide the basis for the most efficient resource allocation in the globalization of our businesses.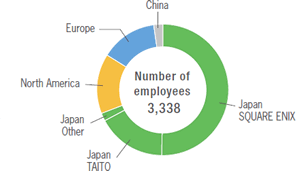 Figure 7 shows the geographical breakdown of sales of game titles achieving over 3 million units during the fiscal year under review.
In the case of "FINAL FANTASY XIII," cumulative sales reached 5.55 million units as of March 31, 2010, which were evenly distributed across our geographies of Japan, North America and Europe. Only released in Japan, "DRAGON QUEST IX: Sentinels of the Starry Skies" has reached 4.26 million units. On the other hand, "Batman: Arkham Asylum" had very modest sales in Japan but sold 3.24 million units mostly in North America and Europe.
Our global development is not the release of all titles in all regions, nor is it game development in a certain region for meeting any individual, regional taste.
As we maximize the unique strengths of each title, sales performance may vary depending on regional preference. The globalization we pursue achieves an optimal balance of products across the Group through combinations of such strong titles.
The fiscal year under review, which enjoyed several big title releases, serves as a good example of the direction we are pursuing.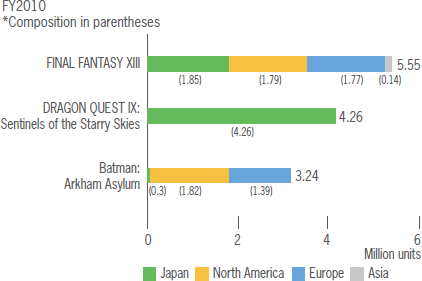 As network environments continue to develop around the world, the international flow of content is speeding up. Now,there are no obstacles other than language.
In marketing segmentation, while culture continues to be a factor, user location has little meaning.
As a result, segmentation by "individual customer preference" is the truly vital issue.
In this way, we have first established a globalization "skeleton" for which we will be adding "nerves" and "muscle"going forward.
In the current fiscal year, it is critical that we further strengthen our organization. Our focus is to establish organic connections across the Group and raise the business execution skills of each internal organization.
In the area of geographic expansion, our biggest work ahead is the development of our business in China, on which we shall place a top priority going forward.
---