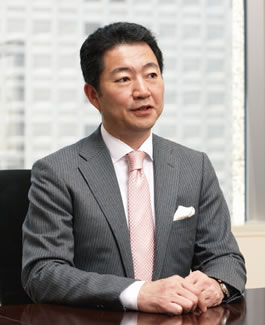 I am grateful to our shareholders for the opportunity to present the Company's annual report for the fiscal year ended March 31,2010.
On a consolidated basis, net sales for the fiscal year ended March 31, 2010 totaled ¥192,257 million (an increase of 41.7% from the prior fiscal year), operating income amounted to ¥28,235 million (an increase of 130.0%), recurring income was ¥27,822 million (an increase of 147.1%) and net income reached ¥9,509 million (an increase of 50.1%).
The Company's operating income ratio was 14.7% and return on equity (ROE) was 6.3%.
We set dividends applicable to the fiscal year ended March 31,2010 at ¥35.00 per share. This amount includes a special dividend of ¥5.00 yen per share to commemorate the achievement of record-high earnings and represents a consolidated payout ratio of 42.3%.
As I have mentioned before, the game industry is in the midst of revolutionary change. This has become even more apparent in the latest earnings reports from game companies (Figure 1).
Despite the often touted shift in game industry leadership from Japan to the U.S. and Europe, actual corporate results are shown in Figure 1. Unfortunately, U.S. and European publishers have seen profits wiped out and the largest Japanese game companies have only narrowly avoided losses. It's worth noting that the difference is only based on business diversification at Japan-based game companies while U.S. and European game companies have focused on home gaming software. In other words, this figure shows that the home gaming business alone is unsustainable as it stands today.
So, what is the next key pillar?
Although we have achieved the highest profit ratio among Japanese, U.S. and European peers, this is surpassed by the profit ratios of certain major Asian game companies.
Naturally, the remarkable local growth rates in their home countries as well as supportive government policies have been positive factors. More importantly, however, I believe this trend shows a shift to business models centered on networks.
We face significant challenges as we must simultaneously work to both maintain profitability in our current businesses and transform our Group by quickly identifying changes in the business ecosystem.
I would like to discuss the fiscal year under review from these two important perspectives.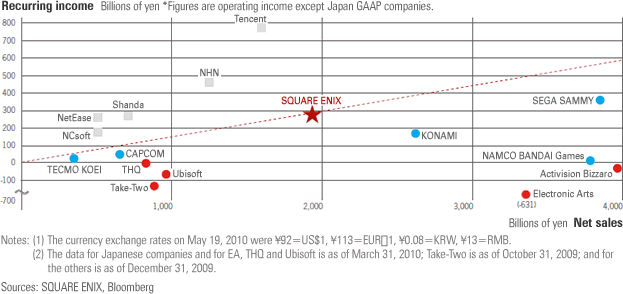 The Year's Record Profit: Broad-Based Success
In the year under review, sales and profit reached record levels,while nearly all business segments showed increased profit.
Furthermore, sales across all geographic segments of Japan,North America and Europe achieved record levels (Figures 2 - 4).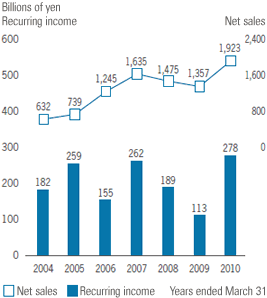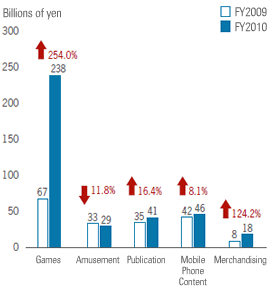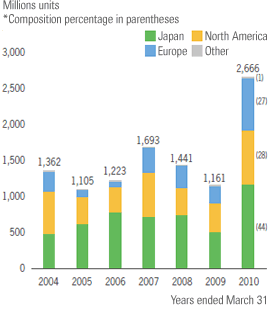 Key Factors to Enter the Next Growth Stage
As I've mentioned, we have been able to manage our current businesses very effectively under a challenging operating environment.
So, are we prepared to enter the next growth stage? I would like to give the following overview from this perspective.
We have identified three key success factors.
Globalization
Becoming "Network Centric"
Strengthening Own-IPs
Since our creation by merger between ENIX and SQUARE,these fundamental themes have not changed.
---