Digital Entertainment
The Digital Entertainment segment posted net sales of ¥263.9 billion and operating income of ¥50.5 billion in the fiscal year ended March 2021. The HD (High-Definition) Games sub-segment released such major titles as "FINAL FANTASY VII REMAKE" and "Marvel's Avengers." "FINAL FANTASY VII REMAKE" was released just as COVID-19 was beginning its global spread, forcing us to approach distribution in ways that we never had before. At one point, even whether the release would be possible was thrown into question. Despite these challenging conditions, we were able to launch the game thanks to the efforts of both our development and sales teams, and it has proven a major success. I know how much fans around the world were looking forward to "FINAL FANTASY VII REMAKE," and I could not be happier that we were able to deliver it to them. This was a unique success in that the pandemic made in-store sales less available to us than usual, an obstacle that we were able to overcome by significantly growing our digital sales. The transition to digital sales had been underway for some time, and we had also been undertaking a variety of initiatives to propel the shift from sales of packaged games to digital sales. However, the pandemic has prompted our customers to do more of their buying online. We tend to sell a larger percentage of blockbuster titles like "FINAL FANTASY VII REMAKE" on physical disks in order to ensure that such titles make it to the market in substantial volumes. However, lockdown orders and state of emergency declarations were issued as governments attempted to curb the spread of COVID-19. For this reason, we had no choice but to limit production of packaged games, and our customers were also unable to go out and about as they would like. As such, our customers increasingly made their purchases online rather than in stores as the digital shift gained additional momentum due to both demand- and supply-side factors. Our profits benefitted substantially from this development. The pandemic hastened the digital evolution of our customers' buying behavior, and we expect the resulting change to be irreversible and for this trend to continue once the pandemic is over. We intend to further promote the shift to digital going forward.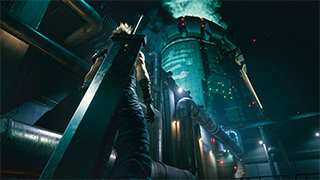 FINAL FANTASY VII REMAKE© 1997, 2020 SQUARE ENIX CO., LTD. All Rights Reserved.
CHARACTER DESIGN: TETSUYA NOMURA/ROBERTO FERRARI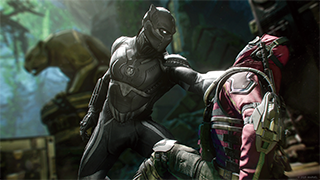 Marvel's Avengers© 2021 MARVEL. Developed by Crystal Dynamics and Eidos Montréal.
Development support provided by Nixxes. All rights reserved.
I would also note that "Marvel's Avengers" was an ambitious title for us in that we took on the GaaS (Games as a Service) model. We overcame a variety of unexpected difficulties in the final phase of the game's development, including needing to transition to work-from-home due to the pandemic. We were able to surmount these challenges and release the game, but it has unfortunately not proven as successful as we would have liked. Nonetheless, taking on the GaaS model highlighted issues that we are likely to face in future game development efforts such as the need to select game designs that mesh with the unique attributes and tastes of our studios and development teams. While the new challenge that we tackled with this title produced a disappointing outcome, we are certain that the GaaS approach will grow in importance as gaming becomes more service oriented. How we go about creating new experiences by incorporating this trend into our game design is a key question that we will need to answer going forward.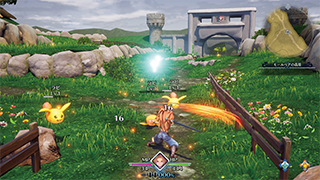 TRIALS of MANA© 1995, 2020 SQUARE ENIX CO., LTD. All Rights Reserved.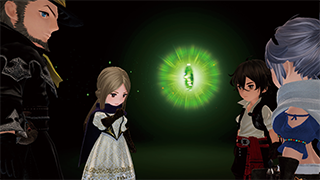 BRAVELY DEFAULT II© 2021 SQUARE ENIX CO., LTD. All Rights Reserved.
We meanwhile also successfully delivered such excellent titles as "Trials of Mana" and "BRAVELY DEFAULT II" to our customers. Reviving existing IP (intellectual property) with modern technology and delivering it to new customers is also of strategic importance. Such initiatives also help us grow our pool of recurring income by attracting not only existing fans but also new customers. We will continue to leverage our rich portfolio of IP assets in order to further expand our base of recurring income.
---