Digital Entertainment
The High-Definition (HD) Games sub-segment struggled, in partdue to the challenging year-on-year comparison created by therelease of multiple major titles in the fiscal year ended March 2021. However, "OUTRIDERS," which was released in April 2021,achieved a global player base in excess of 3.5 million in its first month, becoming a new looter shooter entry in our Group's library of game IP. In addition, "NieR Replicant ver.1.22474487139…"offered a new way to experience the origins of the NieR franchise. Players whose first contact with the NieR series had been the long-selling title "NieR:Automata" thereby gained a richer enjoyment of the NieR universe, and "NieR Replicant ver.1.22474487139…" also captured the interest of new customers, thus bringing renewed vitality to the franchise.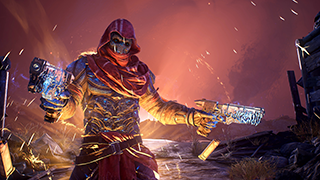 OUTRIDERSOUTRIDERS © 2021 Square Enix Limited. All rights reserved. Developed by PCF Group S.A.
SQUARE ENIX and the SQUARE ENIX logo are registered trademarks or trademarks of Square Enix Holdings Co., Ltd. OUTRIDERS is a registered trademark or trademark of Square Enix Ltd.
People Can Fly and the People Can Fly logo are registered trademarks of PCF Group S.A.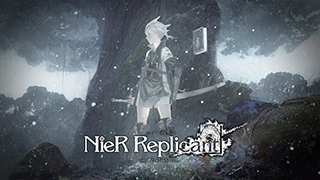 NieR Replicant ver.1.22474487139...© 2010, 2021 SQUARE ENIX CO., LTD. All Rights Reserved. Developed by Toylogic Inc.
The Massively Multiplayer Online (MMO) game sub-segment released expansion packs for "FINAL FANTASY XIV" and "DRAGON QUEST X Online." "FINAL FANTASY XIV: Endwalker" was received with especially great excitement by fans around the world who had been waiting for a sequel. The expansion pack not only boosted "FINAL FANTASY XIV" to the status of the world's top MMO games in every sense of the word, but also made a massive contribution to our Group's business. We remain devoted to our engagement with these passionate fans and will continue to strive for even higher heights in our operation of the game.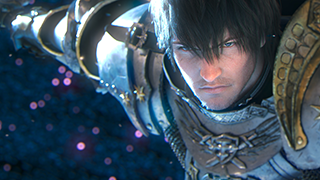 FINAL FANTASY XIV© 2010 - 2022 SQUARE ENIX CO., LTD. All Rights Reserved.
DRAGON QUEST X ONLINE© 2012-2022 ARMOR PROJECT/BIRD STUDIO/SQUARE ENIX
All Rights Reserved.
The Games for Smart Devices/PC Browsers sub-segment underperformed our initial expectations, largely because many of our existing titles have reached maturity and offered limited upside and because the new titles that we launched in the fiscal year ended March 2022 did not perform to the levels that we had anticipated at the outset. "DRAGON QUEST WALK" and multiple other key titles continue to deliver solid performances, but in order to return the sub-segment to a growth trajectory by generating new hit titles, we are going to start developing an organizational structure that helps enhance our development capabilities, while also working to bolster our profitability, in part by revisiting our lineup of titles.
---