Blockchain entertainment domain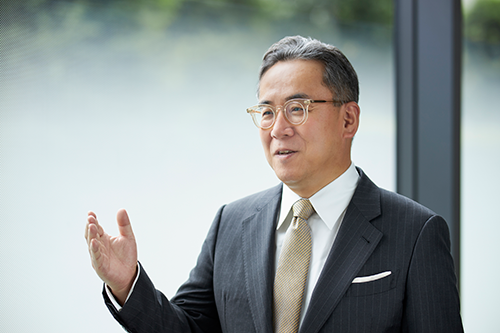 We have identified AI, the cloud, and blockchain as focus investment areas under our Medium-Term Earnings Targets and Business Strategy. At present, we are positioning the blockchain domain as our most important focus and approaching our investment and business development initiatives accordingly. Leveraging AI and the cloud in game development primarily involves incorporating new technological advancements into the gaming experience. By contrast, the uniqueness of blockchain is not purely technological. It lies more in its philosophical aspects as represented by the concept of decentralization that underlies the blockchain model.
As I stated in my 2022 new year's letter, under the traditional model, game developers have provided gaming experiences that represent a completed product. Players enjoy the gaming experience within the confines controlled by the supplier of the game. It is fair to refer to these as "centralized games."Blockchain games, on the other hand, involve the participation of players with a variety of motivations. They exercise their own agency in creating and running the world of the game. As such, it is fair to refer to these as "decentralized games." Going forward, we may see the concept of decentralized gaming take off and a proliferation of token economies, which are mechanisms for incentivizing players to take part in decentralized games in various ways. If this leads to the creation of self-sustaining worlds with even greater scalability, I believe that we will see new types of games produced unlike any anyone has ever seen before.This field is only in its infancy, and we have yet to see any games providing the type of excitement only possible with blockchain technology. We also acknowledge that some view the very concept of blockchain gaming with suspicion due to what appears to be a bubble in NFT asset sales, the incredible volatility of crypto assets, and the fact that laws, accounting practices, and tax codes are still being established or formalized.However, I believe that blockchain gaming holds the potential to create new forms of gaming content, and that it represents a new business domain worth our Group addressing alongside traditional games.
Based on this belief, we created a Blockchain Entertainment Business Division in February 2022, marking the meaningful start of our efforts in this field. We have also been ramping up our investments in a variety of both internal and external projects.Rather than limiting ourselves solely to blockchain games, we intend to pursue a wide range of new types of entertainment under the banner of "blockchain entertainment." We are a content company. As such, our mission is to create new excitement of a sort never seen before using new technologies and new ways of thinking. Blockchain technology presents us with the challenge of seeing what sort of new excitement we can create with it. We will remain aggressive in taking on this new field.
This concludes my review of our earnings for the year ended March 2022 and my update on our Medium-Term Earnings Targets and Business Strategy, as well as a discussion of our future business strategy with a focus on our studio portfolio strategy, focus investment areas, and our progress in the blockchain entertainment business in particular.
I will close by discussing the new composition of our board of directors and our shareholder return policy.
Our governance apparatus and shareholder return
As of June 23, 2022, we added three new executive officers to our Board of Directors. With this change to our governance apparatus, we will maintain the supervisory capabilities made possible by a majority of outside directors, while also creating a board that is more balanced in its composition between execution and supervisory functions, thereby driving greater corporate value. In regards to our shareholder return policy, we will maintain our guideline of a consolidated dividend payout ratio of 30%, while working to return profits in a way that is optimally balanced in terms of both reflecting our financial performance and ensuring the stability of rewards.The environment in which our Group finds itself is at a more significant inflection point than any preceding it, especially with regard to the digital entertainment industry. We will work to achieve greater growth by further fortifying the foundations of our existing businesses and taking on new business domains. We look forward to your continued support to that end.

President and Representative Director
---